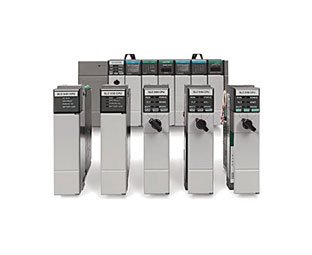 Our Bulletin 1747 SLC™ 500 control platform is used for a wide variety of applications. Rockwell Automation has announced that some SLC 500 Bulletin numbers are discontinued and no longer available for sale. Customers are encouraged to migrate to our newer CompactLogix™ 5370 or 5380 control platforms.
Ladder-logic and structured-text programming
Advanced instruction set including file handling, sequencer, diagnostic, shift register, immediate I/O, and program control instructions
Built-in RS-232/422/423 communication port
DeviceNet and ControlNet I/O on selected processors
One or more on-board ports that can be configured for either Data Highway Plus™ (DH+) or Universal Remote I/O
Universal Remote I/O ports can be configured as an I/O scanner port or an I/O adapter port
Ethernet PLC-5® controllers and the Ethernet interface module (1785-ENET) provide built-in web services
Backup options for increased fault tolerance through the ControlNet™ Hot Backup module or the PLC-5 Backup Communication module
Certifications apply when product is marked. See our Product Certification site for Declarations of Conformity, certificates and other certification details. 
| Resource | Publication Number | Language |
| --- | --- | --- |
| SLC 500 to CompactLogix 5380 Controller Migration Profile | MIGRAT-PP004 | |
| SLC 500 to Compact 5000 I/O Conversion System Selection Guide | 1492-SG010 | |
| SLC 500 Hardware Migration Reference Manual | 1746-RM003 | |
| SLC to CompactLogix Programming Migration Application Profile | 5069-AP001 | |
| SLC 500 Instruction Set Reference Manual | 1747-RM001 | |
| SLC 500 Systems Selection Guide | 1747-SG001 | |
| SLC 5/03, 5/04, 5/05 Processors Installation Instructions | 1747-IN009 | |
| SLC 500 Modular Hardware Style User Manual | 1747-UM011 | |
| SLC 500 Fixed Hardware Style User Manual | 1747-UM009 | |